Cajun Roots
Cajun music has it's roots in Acadia, formerly French Canada. It is an old and rich fiddle and song tradition.
The Cajun country of southwest Louisiana was settled in the 1700s. Creole people settled along with them, bringing a different musical tradition from the Carribean. The accordion and its trademark sound didn't reach Louisiana until around 1900, when both Cajun and Creole musicians snapped it up.
Cajun music is country music. Cajun fiddle music often has the distinct sound of two strings being bowed at the same time, with a particular bowing rhythm. It gives more volume to the fiddle, as well as a "fuller" sound.
When the Bebe LeBoeuf Band plays music of Louisiana, it draws from two distinct music camps: Cajun and Zydeco.
The Bebe Leboeuf Band plays music of Cajun roots, but it has another quality.
You hear a certain rhythm you find in Zydeco, islands music and Cuban Rumba. The result is music with a drive that makes you want to move. Elvis said it best: "When I hear it, I just can't stand still -- I gotta move!" (OK, he was talking about Rock & Roll, but the same idea!)
That the music is infectious, there's no question. The LeBoeuf Band injects a lot of syncopation into their sound, which makes it such good dance music.

"Zydeco" is a term with an interesting derivation. As Gary Hayman explains , "...it comes from the Creole saying 'Les haricots sont pas salÚs' meaning 'The beans aren't salty'. This phrase means something like times are really hard if you don't even have salt for your beans, much less meat in the pot." He adds, it was "eventually shortened to just 'Les Haricots' (pronounced l'Zydeco) ... and also came to also mean a special Creole dance." Then Clifton Chenier recorded the hit "Zydeco sont pas salÚ" and Zydeco officially became known as a style of music.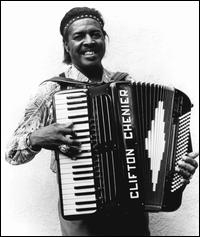 Clifton Chenier, known as The King of Zydeco. He often played at very fast tempos, with tremendous energy. He was very much a Blues player, too, exploring new territory with his large piano key accordion.
Zydeco music evolved from Creole tradition and became established in the 1950s. It has become known as a more urban music, and Cajun more as country.
Zydeco music evolved from Creole tradition and became established in the 1950s. It's usually more electrified, more bluesy, more syncopated, with rubboard and drums, and no fiddle or triangle. Recent times have seen a number of Louisiana bands doing a pretty good job of playing both Cajun and Zydeco music.
Both Clifton Chenier and Boozoo Chavis are at the origins of Zydeco.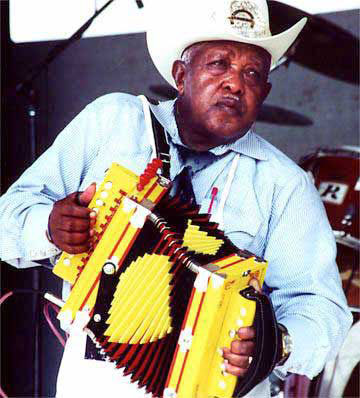 Boozoo Chavis was one of the first Zydeco players. He was know for his rhythmic groove music, slower tempo and using very few notes, but always to a strong dance downbeat. He made his Zydeco debut with "Paper in my Shoe" in 1954. Note that he plays a "Cajun" accordion.